Main content starts here, tab to start navigating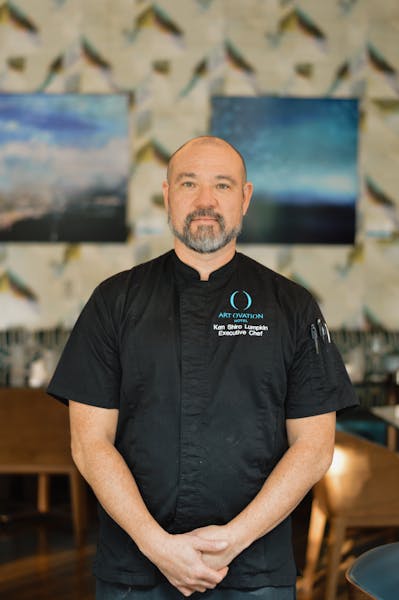 Ken Shiro
Executive Chef
Ken Shiro Lumpkin was born in Oakland, California to a Japanese mother and a decorated naval officer. Being raised in a traditional Japanese household, steeped in generations old family recipes and techniques, was what sparked his passion for the culinary arts. After traveling the country with his family, they settled in Memphis, Tennessee where he received tutelage by fire under master French chefs such as José Gutierrez of Chez Philippe restaurant in Peabody hotel, Jean Christophe and Gene Bjorklund of Aubergine Restaurant. With these years of influence and honing his culinary skills, Ken decided to travel, cooking in such places as Jamaica and Japan. These were life changing experiences, something that he carries into his future endeavors.
Upon returning to the states, and to Memphis, Ken opened a few Japanese restaurants for others, gaining the wisdom to open his own, Umai. An innovative blend of traditional Japanese dishes often with clever French touches, it garnered a distinguished following.
After years of success, a higher duty called, and Ken moved to New Orleans to take care of his ailing father. This move allowed him to work with Michael Gulotta at his flagship restaurant, MoPho and within his grand event hall, Latrobe's on Royal.
In pursuit of education and opportunity, Ken picked up and moved to Dallas, Texas. He was excited to become the Executive Chef and Executive Sushi Chef of Musume, a beautiful Japanese eatery right next door to Stephen Pyle's Flora Street Cafe, in the Hall Arts District. Designing the entire kitchen layout and developing the management systems that went into place throughout the restaurant were just a touch of the responsibilities Chef Ken had in this role. Valuable knowledge was gained as he took the reins and guided Musume to a remarkable opening and first year.
However, change came again when he had to make another move, back toward his girlfriend's family. Being one to always see the good in things, Chef Ken took this as an opportunity to grow himself further within the quaint oystering town of Apalachicola, Florida. Joining the Gibson Inn, a charming, historic boutique hotel, to use his 30 plus years' experience to build another exceptional restaurant, The Franklin, as seen in Southern Living magazine, January/February 2020 issue.
But this would not be the chef's last stop, nor last restaurant opening. In January of 2021, Ken and his family made another move to the beautiful coast of Sarasota, Florida. Here, Chef Ken had, once again, put his heart and soul into the launch and management of a cutting-edge Japanese fusion concept, Kojo.
While still in Sarasota, Chef Ken has become the new executive chef of the Art Ovation Hotel. He is extremely excited to bring his talent and knowledge to redevelop the food program with this luxurious concept.